It's 1941. World War II rages on, unabated. The allies have captured an enigma machine, but they urgently need the Enigma Codebooks to crack the enemy's transmissions and turn the tide of the war.
Step back into the past and fill the shoes of an elite team of British naval officers. Your spy on board the vessel has sent one final transmission; the crew is abandoning ship and the U-Boat has been marked for destruction in one hour's time.
Can you follow his clues, rescue the enigma codes, and escape the U-Boat before the enemy returns? The fate of the world is in your hands!
Book your spot today!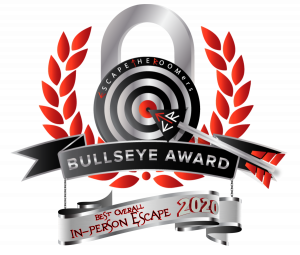 We're proud to receive the "Best In-Person Escape 2020" award for our U-Boat room. Fully immersive and designed to deliver a powerful "wow!" moment, the U-Boat will delight and captivate you. Come experience it for yourself!
All bookings are public, meaning other groups may book into your experience. If you would like a private experience just for your group, please select "private event – book entire game".
If you would like to come earlier in the day, or during a time not displayed, just drop us a line!
All bookings require a minimum of 2 adults. If you wish to bring children 12 or younger, please call before booking.