It's 1941. World War II rages on, unabated. The allies have captured an Enigma machine, but they urgently need the Enigma code books to crack the enemy's transmissions and turn the tide of the war.
Step into history and the shoes of an elite team of British naval officers with one mission: find the Enigma code books, and bring them safely back to Britain.
The allies had a spy on board the vessel who sent one final transmission; the crew is abandoning ship and in one hour their desertion will certainly be discovered, and to preserve its secrets, the U-Boat will be torpedoed.
Can you follow the clues left behind by your spy, rescue the enigma codes, and escape the U-Boat before it is destroyed? The fate of civilisation is in your hands!
Book your spot today!
All games are private, with tiered pricing. Nobody else will be able to book into the same game with you.
Players under 15 years old must be accompanied by an adult. Children are welcome to come with families, but our games are not well suited for larger groups of kids aged 13 and younger. We're happy to give recommendations if you're looking for a good party option for kids.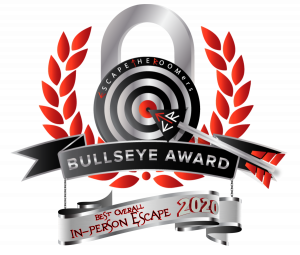 Proud recipients of "Best In-Person Escape 2020" award for our U-Boat room.
"Fully immersive and designed to deliver a powerful 'wow!' moment, the U-Boat will delight and captivate you." Come experience it for yourself!