Have you ever wanted to step inside an action movie, gather your motley crew of thieves, and attempt to pull off the most incredible heist the world has ever seen?
A private art gallery in Back Bay has become home to the world's largest diamond, worth hundreds of millions of dollars. Assembled in your secret hideout you have the blueprints, inside knowledge of the gallery's security detail, and all the tools you'll need to execute your master plan.
You have only one chance, and one hour, to get it right. Today you determine your destiny: a lifetime of untold riches, or a decade behind bars?
Book your spot today!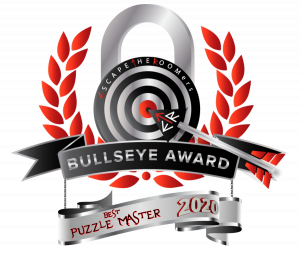 We're proud to receive the "Best Puzzle Master 2020" award for our Heist room. Full of a ton of original and engaging puzzles, the Heist will truly put your puzzle skills to the test. Try it today!
All bookings are public, meaning other groups may book into your experience. If you would like a private experience just for your group, please select "private event – book entire game".
If you would like to come earlier in the day, or during a time not displayed, just drop us a line!
All bookings require a minimum of 2 adults. If you wish to bring children 12 or younger, please call before booking.